The Distinctive Lifestyle: Your Life. Your Terms. Your Vision. Your Definition. initially began as a book that I did not finish writing yet turned into an event. The first thought for The Distinctive Lifestyle was to illustrate to those that believe in and follow the scriptures in The Bible that they could live astonishing lives if they applied their faith and took the corresponding actions for the fulfillment of their goals and dreams. Our lives are supposed to make the world look at us and wonder, "What is it that they are doing that allows them to live such amazing lives?!" Unfortunately, the greater majority of Christians live defeated lives just waiting for things to happen for them.

In designing this course, it does not matter whether you believe in the God that I serve or not in order for these things to happen for you. Laws work regardless of religious beliefs so on. You will hear me talk about my convictions at times during the course and you are allowed to accept what is valid for you. I am simply teaching and sharing information in a way that is true to me. If not, how would it look for me to be hiding who I am and what I believe when I am teaching you how to live according to your terms, your vision, and your definition? Apply and live by what works for you.
Years ago when The Distinctive Lifestyle was just an idea, I never longed for facilitating events, creating products, or courses around it. I essentially thought of composing a book and that was it. Since I don't have a passion for writing, I decided to host an event instead. Punctuation and grammar are not my areas of strength, however I can deliver an eye-catching class or speech almost effortlessly.

In this course, I share with you genuine examples of how I and other people who have followed my direction have had the option to appreciate a better life. At the point when individuals fear and state that they wish that they could carry on with a better life, I share with them that my life is as I want it to be on the grounds that I plan for it to be that way. I trust that you will be in the I share with them that my life is as I desire it to be because I plan for it to be that way. I hope that you will be in the upper echelon of participants, the one's that get things achieved without rationalizing and complete this course, that you will follow all of the steps, and practically apply what you are learning.
Indeed, you will have to become clear about what you truly desire and then discover practical ways to accomplish them. Sometimes that may be a challenge but once you focus on your heart's desires a way will be revealed to you. I have encountered this countless times in my life including today, the day, which I am writing this message to you.

Other than our monthly class every 20th, I will share a video or message to stimulate motivation and encouragement for you, up to three (3) times during, until our next class.

Your Instructor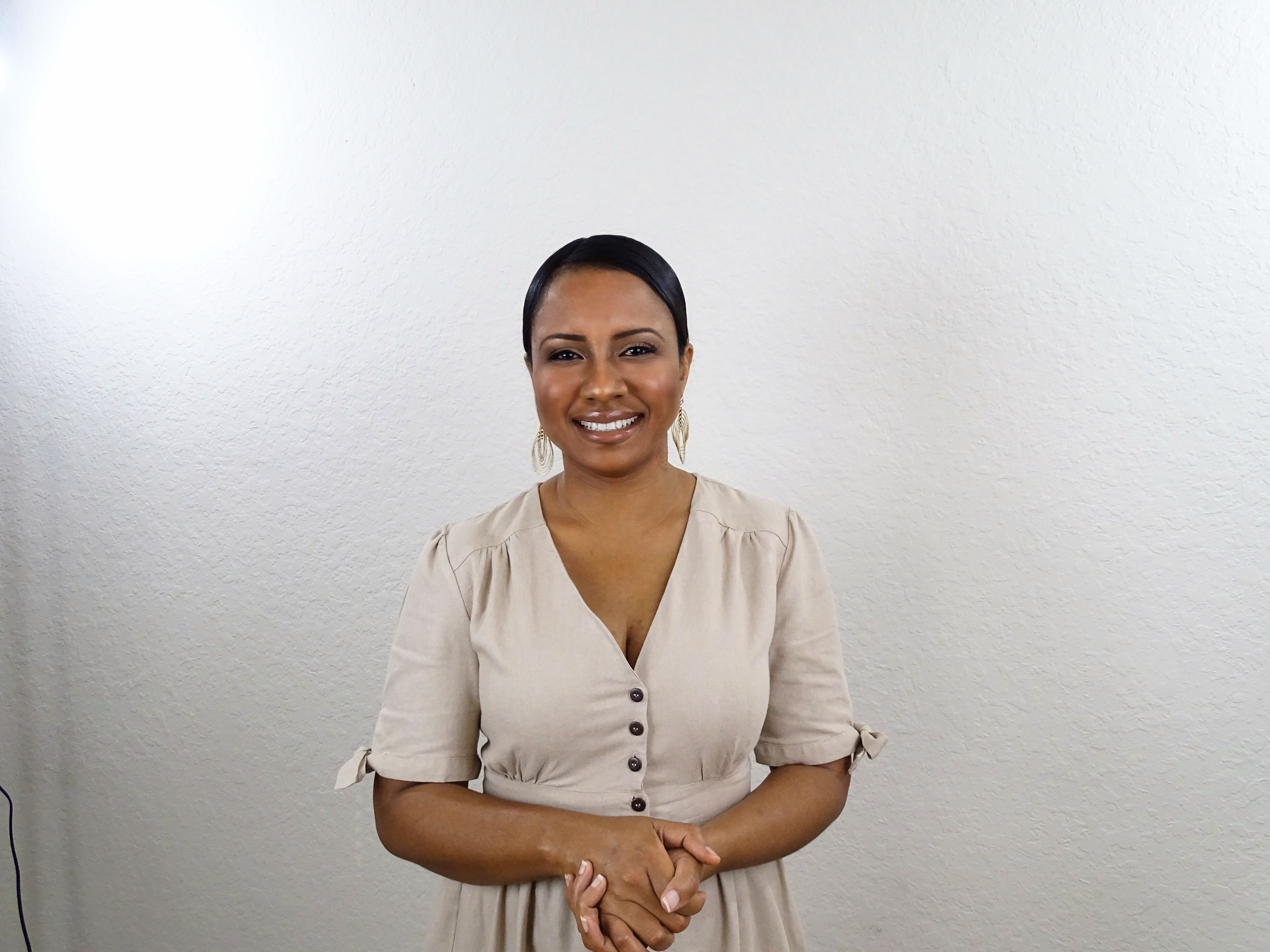 Are you ready to know more of Raideesha? Brace yourselves as this will be a lively narrative! Find out what other people commonly say about her but there is a part of her that is unpredictable. Her character is consistent but her ideas will always be distinctive.
At heart, Raideesha is known to be a woman that values her word and places high priority in honoring her words.
She is an understanding woman that does not see every situation in black and white but understands that life is colorful.
She does not only treat others the way that she desires to be treated but she also treats people how they desire to be treated, understanding that we all have differences of perspective in life and in the treatment that we find desirable to us.
She is considerate of others and their needs, wants, and desires.
She is always ready to give freely and share what she has with others, whether it is material possessions or her wisdom; providing more than what is necessary. She is unselfish and surprises recipients with going over, above, and beyond their needs but the beautiful part is that it is always confidential where the world won't ever know of her charitable deeds. She truly believes in giving secretly.
She thinks of her past to be able to make better decisions in her present life that would lead to a promising future. She is a true visionary. Her imagination is fertile soil that has good fruitful seeds sown in it that will produce a beautiful life and vision. Her future and future endeavors are plans with great imagination and wisdom. Her ideas are always distinctive and authentic.
She is outspoken yet quiet. She values relationships but also invests in replenishing herself knowing that in silence, she is also powerful. She realizes that when she speaks on purpose, her words bear greater strength and results. Speaking idly is not something that she is known to do because she understands the power of her words.
She is a social butterfly, being friendly and easygoing and can strike up a conversation with even the most intimidating person in the room, effortlessly but could also display traits of an introvert by being reserved, at times. She is energized by turning inward and investing in having essential solitude.
She is a mother that invests in her son's long-future, instilling wisdom and practical knowledge that will serve him for a lifetime.
Raideesha is a:
- Mother - Certified Professional Communicator (Speaker) - Business Consultant (specializing in the culinary industry) - Realtor (specializing in finding locations for food businesses, entrepreneurs, and professionals) - Corporate Trainer in the food service and hospitality industries - Certified International Instructor - Registered International Examination Proctor - Event Host - Author - Entrepreneur
What people say about Raideesha
My thoughts about you are that you are a beautiful lady and VERY intelligent, ambitious and industrious. - Alexander L. K.

Thoughts about you? Hmmm. When you think of an idea you implement it to the fullest and you don't give up till you accomplish your goal. I admire your determination to keep pushing no matter what obstacle come your way. I admire the fact that the knowledge that you gain that you share it with others. You are an inspiration, a motivator and an influencer. You make things happen. - Monique A.

You are a very caring person. An inspiration to others. Very self motivated. Often you don't realize how much you mean to others. You are a light in a sometimes dark world. - Jerome W.

Ok, so for me you are a product of both you parents. A little of mumny and a lot like daddy. Sometimes we don't recognize who and what we are about until others say something to us. - Eugine L. F.

You are strong, strange and severely opinionated! Strength in places most people run from; Strange in that you are a doer and develop ways to get things done and severely opinionated in that you have a viewpoint and perspective that you adhere to. You know what you want! All reasons for being such a wonderful person. - Marsha M.

Beautiful heart. - Sinovia E. T.

For professional testimonials go to http://www.culinarymanagement.co/real-testimonials-from-real-people
Course Curriculum
Welcome to The Distinctive Lifestyle Subscription Program
Available in days
days after you enroll
Frequently Asked Questions
Who should be a part of this program?
The ideal person to be a part of this program is a person that desires to further build and develop themselves. The program will help you discover things about yourself that you may not have known, You will find out and implement what works well for you and how to deal with or eliminate what does not. You will start to learn and study yourself, allowing your mind to open up to new(er) possibilities to inspire essential change for you. To live distinctively requires knowing and understanding who you are and your unique purpose and value. "You don't have the right to be mediocre because you are made in the image and likeliness of God and being mediocre is an insult to Him." - Raideesha
How much of a time commitment is necessary for this program?
Class is once a month, on the 20th of each month for 40 minutes. You decide how much additional time you desire to invest in living your life according to your terms, your vision, and your definition.
Are there assignments that need to be turned in and are they graded?
Program participants will have the opportunity to share what they have done for feedback. You will not receive a grade for participation or for the lack of participating.
Is there interaction with other online participants?
Yes, there is an online community where participants who desire to interact with other participants can engage in discussions about the program.
Benefits of joining this program
- The program is convenient and flexible. - Through the program you might experience developing a deeper look into and understanding of areas in your life that you might not have considered before. - Participants may experience a renewed or revised perspective of how they have viewed past and current experiences, people, things, concepts that allow them to live more liberated.
Possible disadvantages of joining this program
- Being accountable for your individual success, participation, progress, or lack of progress. - The program requires you to be self-disciplined to do what you are supposed to, when you are supposed to, regardless of how you feel and/or what's going on around you or in your life. - Staying focused and pushing through to the end of the program is vitally important.
When do we find out the topic for each month?
A week before the next session begins. Although topics have been planned, it might be necessary to reorganize them based upon the flow of the previous month's topic and according to the program's participants needs.
Will we ever meet in-person?
Throughout the year there will be opportunities to participate in in-person events that are separate from the subscription program. They are optional and available to you if it suits your needs, wants, or desires.
What if I am not able to attend a class live?
Within about a day, the video will be uploaded to the program's online platform where you could watch the replay at your leisure.
Is attending the online program live mandatory?
No, program participation is at your discretion.
Are there specific login instructions?
Yes and they will be emailed the day of each class; which will normally just be a new password to gain access to our live session.
Will there be a live question and answer segment during the live session?
Yes, there will be.
Does this program qualify for continuing education or any other type of credit?
No, this program is not accredited to allow you to earn any type of credits for participation in it. You will however grow and receive benefits that outweigh receiving credit or recognition for doing something for yourself.
Will I receive a certificate upon successful completion of the program?
Yes, you will receive a Certificate of Completion.
How much is the investment for the program?
The annual subscription is $240 (USD) and can be paid in one (1) full payment or over twelve (12) months at $20 (USD) a month.
How can I pay for the course?
Online through our platform via credit or debit card.
I have registered for the course. How do I access it?
You will receive an email containing your login information for the live session up to one (1) day prior to the first day of class. Class content will be uploaded the day of the live session, unless otherwise noted.
When does the program start and finish?
The course starts on January 20th, 2020 and ends on December 20th, 2020.
How long do I have access to the program?
After enrolling, you have access to the program until December 31st, 2020.
Refund policy.
Non-refundable. Cannot be cancelled. However you can transfer your subscription to another person. If you have any additional questions please send an email to
[email protected]
with your specific concerns.